The Recurrent Investor Assurance Framework (RIAF) is established under NSW Treasury's Gateway Policy. It is approved by the NSW Government and applies to major recurrent projects and programs being undertaken by agencies. 
The objective of the RIAF is to ensure the Government's key recurrent projects and programs across NSW are delivered on time and on budget by implementing this risk based external assurance framework. The RIAF will also ensure that the NSW Cabinet Expenditure Review Committee (ERC) is supported by effective tools to monitor the NSW Government's major new policy proposals, receive early warning of any emerging issues and act proactively to increase project success.
The RIAF provides independent advice and assurance to an agency's existing internal project delivery processes and post-project implementation is complemented by the NSW Government's Program Evaluation processes.
What is a recurrent investment proposal?
A recurrent investment for the purposes of this framework can simply be thought of as an investment that is predominantly neither a capital infrastructure nor an ICT investment. Recurrent investments include:
Implementation of a new policy/program
Significant amendment/upgrade to an existing policy/program
Outsourcing a service
Like to like renewal of an existing policy or service that is due to lapse (no change in scope)
Re-tender of existing services
Creation of a new public entity (or new business unit within a public entity) with resource or regulatory cost implications
Creation of a new government service with resource or regulatory cost implications
Significant (non-routine) maintenance-for example, to address a large maintenance backlog
Investments to enhance/extend agency capability.
What is recurrent investor assurance? 
Recurrent investor assurance is a process that requires recurrent proposals above a specific threshold (see below) to be assessed for risk and undergo a series of external assurance (or Gateway  reviews) at key milestones or Gates.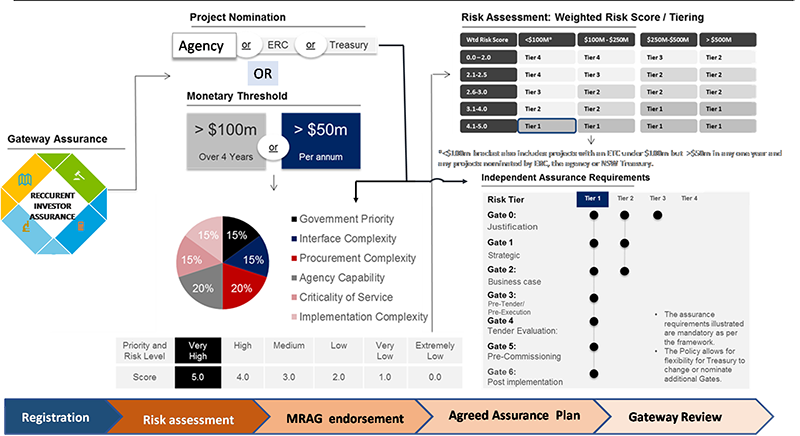 When does the RIAF apply?
The RIAF applies when the value of recurrent spends being proposed by general government agencies or government businesses meet the following criteria: 
the value of the proposal (project or program) is greater than $100 million in ETC over four years or $50 million in any one year, 
or
the proposal is of lower value but it is nominated by ERC, an Agency or by NSW Treasury.
For State Owned Corporations (SOCs), the Major Projects Policy for Government Businesses, [TPP 18-05], sets out the circumstances in which the RIAF applies to SOCs. SOCs are required to notify Treasury and the relevant minister of all projects being considered over the next few years based on thresholds set out in TPP 18-05. This includes Recurrent investments. There is no requirement for SOCs to register projects under the RIAF. However, the relevant minister may refer any project being delivered by a SOC to Treasury for assurance under the RIAF. For more information refer to TPP 18-05.
How does the RIAF work?
The RIAF process can be summarised as follows:
Agencies review and identify recurrent proposals meeting the RIAF thresholds; or ERC, Treasury or the Agency nominates the proposal to be registered and risk assessed. 
Agencies complete a risk self- assessment of the proposal using the Recurrent Investment Registration and Risk Assessment tool and submit this to the Treasury Gateway Team.
Based on the risk assessment, the project or program is classified into risk tiers – highest risk is Tier 1 and the lowest risk is Tier 4. 
Agencies propose an assurance plan based on the self-assessed risk tier outlining how many, and at what stages in its life cycle, external peer reviews are to be conducted for the project or program.
The Major Recurrent Advisory Group (MRAG) reviews and endorses the risk self-assessment and the external assurance plan for the projects or programs.
Treasury's Gateway Team works with agencies to implement the MRAG endorsed assurance plan 
Review teams conduct Gateway reviews in accordance with the approved assurance plan using the Gateway Review workbooks to guide their reviews.
Agencies receive Review Team reports and respond to recommendations to improve their chances of successfully achieving targeted outcomes.
What is the Major Recurrent Advisory Group?
The purpose of the Major Recurrent Advisory Group (MRAG) is to:
provide high-level advice to NSW Treasury on proposed Project Tier and Project Assurance Plans provided by delivery agencies and reviewed by the Treasury Gateway Team
review the effectiveness of the RIAF annually
provide advice to Treasury on the operation of the RIAF and the outcomes of Gateway Reviews.
The MRAG has senior executive members drawn from across the sector. It is chaired by NSW Treasury.
How is project risk assessed?
Project risk is assessed using the Recurrent Investment Registration and Risk Assessment tool that classifies projects and programs into four (4) tiers based on the Project ETC and a weighted score. The score is based on a weighted five-point scale of ratings on the following six criteria:
Government Priority 15%
Interface Complexity 15%
Procurement complexity 20%
Agency Capability 20%
Criticality of Service 15%
Implementation Complexity 15%
Resources
Recurrent Investor Assurance Framework Frequently Asked Questions
Project Registration and Risk Assessment Tool (Excel file)
Guide to completing the Registration and Risk Assessment Tool
Recurrent Investment Assurance Framework - A Quick Reference Guide
Application form to register as RIAF Reviewer (Excel file)